International Day of the World's Indigenous Peoples
Unifor commemorates the International Day of the World's Indigenous Peoples on Monday, August 9 and this year's commemoration focuses on the theme "Leaving no one behind: Indigenous peoples and the call for a new social contract".
On this day, we honour and recognize the diverse culture, history and achievements of Indigenous Peoples here in Canada and around the world. We call on all governments worldwide and for all Canadians to recognize and respect Indigenous rights wherever Indigenous citizens reside.
The International Day of the World's Indigenous Peoples was first established by the United Nations in 1994 to mark the day of the first meeting of the UN Working Group on Indigenous Populations. On this day, people around the world are encouraged to spread the UN's message on the protection and promotion of the rights of Indigenous Peoples.
The Covid 19 pandemic has laid bare the inequalities affecting Indigenous communities in Canada and around the world. The United Nations has called for plans to build stronger, equity-focused health systems and to strengthen social protections and public services that are based on the genuine inclusion, participation, and approval of Indigenous peoples.
What would a new social contract between citizens and states that secures rights and dignity for all and leave no one behind look like? That addresses the needs of groups that are often left out? The choices made by world leaders must heed the calls create a just and sustainable future that ensures that all people can share in prosperity. We need a new social contract that delivers recovery and resilience.
In the upcoming year, our union will work to pressure the Government of Canada to act on the following:
Act for truth and reconciliation by fully implementing the UN Declaration on the Rights of Indigenous Peoples (UNDRIP).
Make urgent, systemic changes to protect Indigenous women and girls and two-spirited people. The 231 calls for justice issued two years ago by the National Inquiry into Missing and Murdered Indigenous Women, Girls and two-spirited (MMIWG2S). The federal government's recent response to the report was inadequate and more work is needed.
Demand that all Members of Parliament be a vocal supporter of the 94 Calls to Action issued by the Truth and Reconciliation Commission. They are an urgent call to action for government and organizations to take meaningful action on a many outstanding issues, ranging from protecting language and culture to education to ensuring justice for the victims of residential school violence.
Online Events
The United Nations Permanent Forum on Indigenous Issues 2021 Virtual Commemoration
August 9, 2021 9 a.m.–11 a.m. EDT
Registration Link: https://us02web.zoom.us/webinar/register/WN_I_WCWGQbQjC0K4S3U5bOMQ
The 2021 commemoration of the International Day of the World's Indigenous Peoples will feature a virtual interactive discussion on the distinct elements to be considered when building and redesigning a new social contract that is inclusive of Indigenous peoples—where Indigenous peoples' own forms of governance and ways of life must be respected and based on their free, prior and informed consent and genuine and inclusive participation and partnership.
New Video – Drag the Red campaign
Unifor is a key supporter and sponsor of the Winnipeg community-driven campaign to drag the Red River in Manitoba. When the community organizers needed a new vessel to continue their work, Unifor made a donation from the Canadian Community Fund to supply a new purpose-built aluminum boat.
Watch the new video documenting the Drag the Red Boat launch and the history and context of this important project.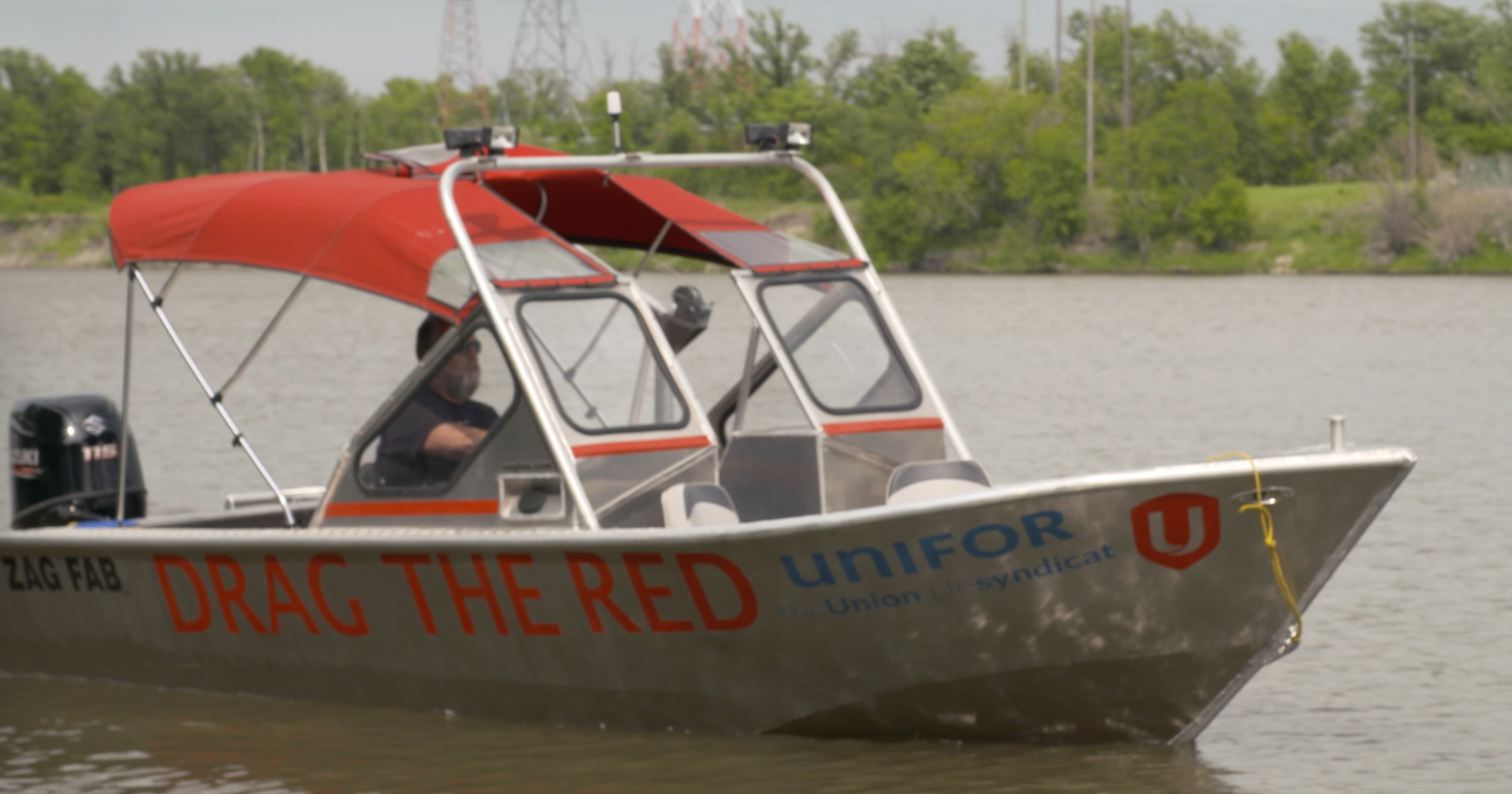 ***
Ne laisser personne de côté
Journée internationale des peuples autochtones
Unifor commémore la Journée internationale des peuples autochtones le lundi 9 août et la commémoration de cette année porte sur le thème « Ne laisser personne de côté : Les peuples autochtones et l'appel à un nouveau contrat social ».
En ce jour, nous honorons et reconnaissons la diversité de la culture, de l'histoire et des réalisations des peuples autochtones, ici au Canada et dans le monde entier. Nous demandons à tous les gouvernements du monde entier et à tous les Canadiens et Canadiennes de reconnaître et de respecter les droits des autochtones, où qu'ils résident.
La Journée internationale des peuples autochtones a été instituée par les Nations Unies en 1994 pour marquer le jour de la première réunion du Groupe de travail des Nations Unies sur les populations autochtones. À l'occasion de cette journée, les gens du monde entier sont encouragés à diffuser le message de l'ONU sur la protection et la promotion des droits des peuples autochtones.
La pandémie de la COVID-19 a mis à nu les inégalités dont souffrent les communautés autochtones du Canada et du monde entier. Les Nations Unies ont demandé que des plans soient élaborés pour mettre en place des systèmes de santé plus solides, axés sur l'équité, et pour renforcer les protections sociales et les services publics fondés sur l'inclusion, la participation et l'approbation véritables des peuples autochtones.
À quoi ressemblerait un nouveau contrat social entre les citoyens et les États qui garantirait les droits et la dignité de tous et ne laisserait personne de côté? Un contrat qui réponde aux besoins des groupes qui sont souvent laissés pour compte? Les choix faits par les dirigeants mondiaux doivent tenir compte des appels à créer un avenir juste et durable qui garantisse que tous les peuples puissent partager la prospérité. Nous avons besoin d'un nouveau contrat social qui assure la reprise et la résilience.
Au cours de l'année à venir, notre syndicat s'efforcera de faire pression sur le gouvernement du Canada pour qu'il agisse sur les points suivants:
Agir pour la vérité et la réconciliation en mettant pleinement en œuvre la Déclaration des Nations Unies sur les droits des peuples autochtones (DNUDPA).
Apporter des changements systémiques urgents pour protéger les femmes et les filles autochtones et les personnes bi-spirituelles. Les 231 appels à la justice lancés il y a deux ans dans le rapport de l'Enquête nationale sur les femmes, les filles et les personnes bispirituelles autochtones disparues et assassinées (FFADA2S). La réponse récente du gouvernement fédéral à ce rapport est inadéquate, il faut poursuivre le travail.
Réclamer que tous les membres du Parlement soutiennent avec force les 94 appels à l'action lancés par la Commission Vérité et Réconciliation. Il s'agit d'un appel urgent à l'action pour que le gouvernement et les organisations prennent des mesures significatives sur un grand nombre de questions en suspens, allant de la protection de la langue et de la culture à l'éducation, en passant par la garantie de justice pour les victimes de violence dans les pensionnats.
Événements en ligne
Commémoration virtuelle de l'Instance permanente des Nations Unies sur les questions autochtones 2021
Le 9 août 2021 de 9 h à 11 h HNE
Lien pour s'inscrire: https://us02web.zoom.us/webinar/register/WN_I_WCWGQbQjC0K4S3U5bOMQ
La commémoration en 2021 de la Journée internationale des peuples autochtones donnera lieu à une discussion interactive virtuelle sur les éléments distincts à prendre en compte lors de l'élaboration et de la refonte d'un nouveau contrat social incluant les peuples autochtones – où les formes de gouvernance et les modes de vie propres aux peuples autochtones doivent être respectés et fondés sur leur consentement libre, préalable et éclairé, ainsi que sur une participation et un partenariat authentiques et inclusifs.
Nouvelle vidéo – Campagne « Drag the Red »
Unifor soutient et commandite de façon importante la campagne menée par la communauté de Winnipeg pour draguer la rivière Rouge au Manitoba. Lorsque les organisateurs communautaires ont eu besoin d'un nouveau bateau pour poursuivre leur travail, Unifor a fait un don du Fonds communautaire canadien pour fournir un nouveau bateau en aluminium spécialement conçu à cette fin.
Regardez la nouvelle vidéo sur le lancement du bateau « Drag the Red » ainsi que sur l'histoire et le contexte de cet important projet.